Nearly $15K In Annual Donations
Donations
Fremont Insurance donates to several charities and community programs throughout the year. We help raise money for local and national non-profits including United Way, March of Dimes, Big Brothers Big Sisters, Breast Cancer Research Foundation, Detroit Veterans Housing Program, and many more. Fremont employees also collect food item donations for our community food bank and school supplies, coats, and Christmas gifts for the Newaygo County Community Services Center.
Volunteering
Employees donate their time and resources to help out with community programs and events. Each year, we help with roadside clean-up for the Adopt-A-Highway program, distribute food from the mobile food truck at TrueNorth Community Services, and operate the ticket booth at the Newaygo County Fair. We also host an annual Trunk-or-Treat event for the Fremont community at our home office.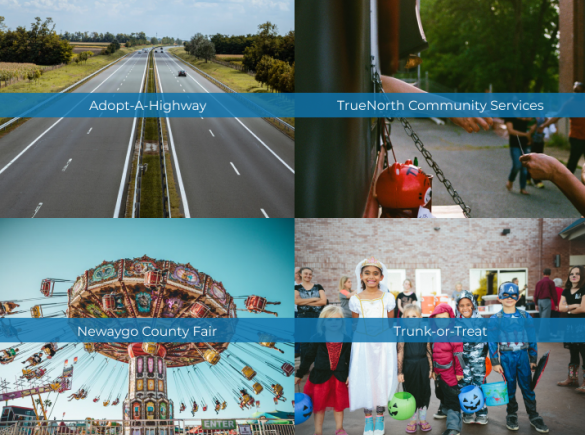 Community Events
Fremont Insurance also supports our community by participating in parades. For many years in July, Fremont Insurance employees walked and rode a homemade company float in the (Gerber) National Baby Food Festival Parade in downtown Fremont. We continue to participate in the Harvest Festival Parade in downtown Fremont every October, where we distribute trick-or-treat bags displaying safety guidelines to children.